Refresh Your Bathroom With Tips from Jill Seidner, an LA-Based Interior Designer!
Thanks to Jill Seidner, owner of Jill Seidner Interior Design in Los Angeles and Orange County, CA, for these easy tips for refreshing your bathroom! Jill is a Top Influencer in Home Design for 2021 and 2020 for Fixr, along with being named a top influencer for several other industry-leading sites.

How to Refresh a Bathroom Incorporating Different Styles
With a few simple touches, it's a breeze to refresh your bathroom! You don't need to call in a contractor; instead, choose a theme and add a few simple items to give your bathroom a whole new feel.
When you include a Bemis enameled wood toilet seat, you can feel good about the purchase. Their seats are made in the USA using eco-friendly processes. Instead of cutting down trees, each year Bemis uses 70 million pounds of wood scrap from Wisconsin-based floor and window manufacturers. Using this kind of post-industrial waste to make seats can eliminate 800,000 tons of carbon dioxide from the environment.
Themes
Classical white can always be a good choice to match different styles. Here are some styles we suggest:
Nautical Style
Nautical style helps you merge the feeling of the ocean with your interior space. Fun and interesting nautical-style products change the plain look and add coolness to the bathroom.
Bemis Kendall® enameled wood toilet seat is a classic, white color, which is a perfect match for the nautical style and adds a fresh feel to your bathroom. It's easy to install, with the STAY•TITE Seat Fastening System that anchors the seat to the bowl and never loosens. The slow-close hinge eliminates slamming. The Bemis Kendall toilet seat is also adjustable, providing precise seat fit and quickly removable for easy cleaning.
Since it's made of enameled wood with a superior, high-gloss finish, Kendall is durable. Bemis uses environmentally friendly water-based paints for the seat, which significantly reduce VOC emissions.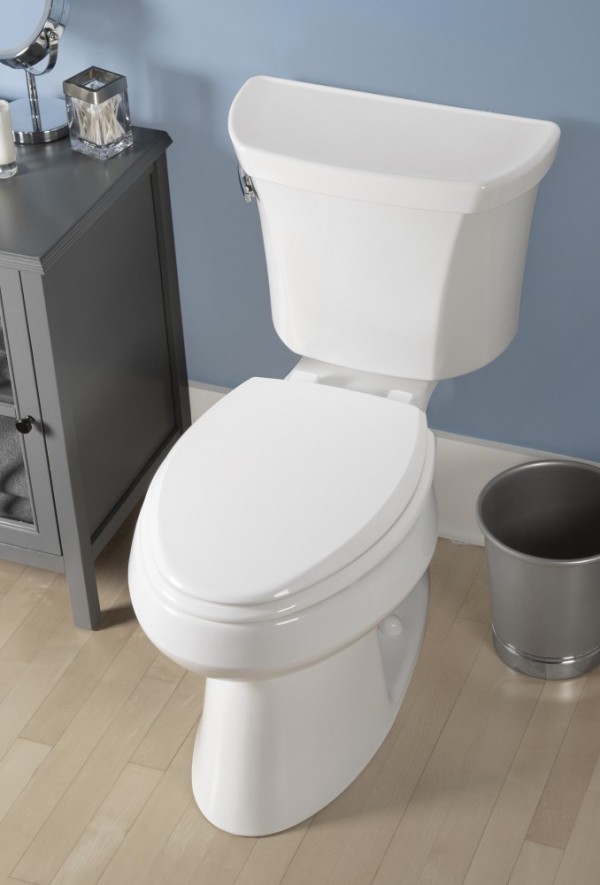 The bathroom wall is a great place to exhibit nautical style, and there is no need for a complicated design for your bathroom's wall. Simple ocean-themed decorations bring the seaside feeling to your bathroom. Wall art, decor such as wooden plaques with shells or other ocean-related items, and nautical-themed wallpaper are all options for simple refresh ideas.
Moreover, decorative items can be both beautiful and functional. A wastebasket is always a necessary item. A nautical-themed wastebasket builds on style to your bathroom, while being a useful container for discarded items.
Antique-look nautical-style candle lantern and lighthouse-shaped candle holders are also good decorations and useful items to place your favorite scented candles.
Modern Style
Modern style focuses on functionality and embraces minimalist style. It can create charm with basic elements and lines, while allowing some sophisticated designs to create a more fancy feeling.
Bemis Benton® enameled wood toilet seat not only has the white color used the most in the modern style, but its matte black hinges add a modern feel to your bathroom. It is made of a sustainable process using wood scraps – no trees cut down to make the seat as mentioned previously.
It has the important and useful features: STAY•TITE Seat Fastening System, never loosens, installs easily, slow close, and durability due to the enameled wood produced with superior high-gloss finish that resists chipping and scratching. The paint is environmentally friendly water-based.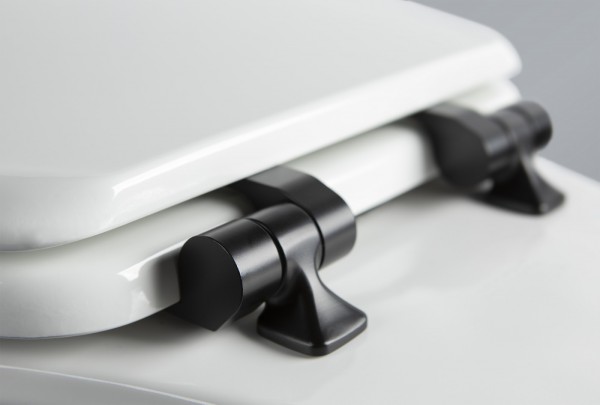 Here are some ideas for modern style accessories that you can add to your bathroom. A 3-tier organizer can help with storing and organizing. Choose an organizer with an uncluttered design, which also makes it a good decoration for the bathroom.
The shower curtain is an important item – it prevents water from splashing to the floor and decorates your bathroom. You can choose a shower curtain that has geometric or clean lines, providing a nice, modern feel.
Also, a bathroom rack is practical to hold items like towels and clothes, keeping them clean and organized. Look for a rack that has a simple, elegant design and a wide shelf that allows for holding towels within reach.
Casual Style
Casual style can help your bathroom look comfortable and warm. The elements of causal style are soft curves and rectangular shapes. It can coordinate with other styles, too.
Bemis Lannon™ toilet seat installs easily, and its curved lines add a soft feel. Like the other two seats, it's made with eco-friendly processes.
It is produced with eco-friendly process using wood scraps as are the other two products from Bemis. It has the same features as Benton: Stay•Tite seat fastening system, never loosens, installs with ease, slow close, and durability. Moreover, its adjustability allows for a precise seat fit. The paint is also water-based. Furthermore, it is a great price point to change the feel of your bathroom.
In addition, bath towels and bathroom rugs in neutral or light colors (beige, light gray, creamy, etc.) and made of natural fiber like cotton or wovens are good options for casual style items.
Tips for Cleaning the Toilet Seat
Bemis provides tips for cleaning the toilet seat on their website. The following information is a summary of their tips:
Only use mild, soapy water with a soft cloth or sponge. Do not let aerosol products and cosmetics, as well as chemicals like bleach, come in contact with the toilet seat, which will cause damage. These tips can be applied to all of the Bemis products. Bemis also includes its phone number in the cleaning tip in case any assistance is needed.
Buying Bemis enameled wood toilet seats, buying green, and changing the look of your bathroom are all part of a great way to refresh your bathroom!