Most Popular FAQ's
Finding the Right Seat
What size toilet seat do I need?
To identify the correct seat size for your toilet bowl, measure from the center of the mounting holes at the back of the bowl to the outside edge of the rim in front.
A round bowl is approximately 16 ½" in length. An elongated bowl is approximately 18 ½" in length. View our Toilet Size Guide for more help.
Based on your measurement, order the appropriate seat – round or elongated – for your bowl. Our seats are designed to fit most manufacturers' round or elongated bowls, even though there are some specialty sizes.
Please click here to view our video on how to determine the correct size seat for your bowl.
Where can I find the model number of my toilet seat?
If you have the original packaging, your toilet seat's model number can be found on the outside of the box. If you do not have the original packaging, please call our Customer Service at 888.722.6488 and they will help you determine what model number your seat is.
What is a typical sized toilet seat?
Installation and Removal
How do I remove my toilet seat?
Depending on the seat, it can be removed with either a screwdriver or a wrench. Please use caution, because your tools can easily chip the porcelain of the toilet. If the toilet seat bolts are rusty, spray them with a rust penetrant. Wait five or ten minutes, and then try loosening the bolts again. If they still won't loosen, consider calling a professional.
Read our article "How to Remove and Replace a Toilet Seat."
What should I do if I'm missing installation hardware for my toilet seat?
All toilet seats should be packaged with the necessary bolts and/or nuts for installation. If your package is missing the hardware, we recommend returning the seat to the store where you purchased it for a replacement. You are also welcome to contact Customer Service at 888.722.6488 to have new hardware sent to you.
Is my toilet seat OK if the STA-TITE nut breaks off?
Yes! The nut is designed so the bottom portion of the nut snaps off when the correct tightness is achieved. This lets you know the nut is on securely and your seat will never loosen. If this step is neglected during installation and the bottom of the STA-TITE nut remains attached, the seat may loosen over time.
How do I remove a STA-TITE nut that has broken off?
Each STA-TITE nut is designed so the bottom portion of the nut snaps off when the correct tightness is achieved. If the remaining portion of the nut needs to be removed, please use a wrench.
Can I reattach a STA-TITE nut after it's been removed?
You can reattach a nut and it will still hold the seat securely, but it will not tell you when the correct tightness is achieved. You are welcome to contact Customer Service at 888.722.6488 for new hardware.
What tools are required to install my toilet seat?
The majority of our toilet seats can be installed using either a 5/8" or a 1/2" socket or combination wrench, depending on the style of hinge the seat has. Our installation video library lists all our hinge options, with easy instructions on how to install each.
Warranty, Repair and Replacement
What is the warranty on my toilet seat?
Bemis Manufacturing Company offers a limited warranty on all toilet seats. The terms of Bemis's limited warranty can be found here.
My toilet seat is broken or damaged.
Our seats carry a one-year (1) warranty from the date of purchase. Please place your broken/damaged seat in a clear plastic bag and bring it back to the place of purchase to receive a no-charge replacement. Bring the Bemis Customer Service number along (888.722.6488). If the retailer is not familiar with how to process warranty issues for the seat, ask them to call the Customer Service team for assistance.
Ordering replacement parts for your seat
Enameled wood seats
Depending on the model, bumpers may be replaced. Please contact Customer Service at 888.722.6488 to learn more. Separate hinges are not replaceable on enameled wood seats. Once screws are removed from a wood seat, the screw hole can be stripped, causing the hole to be unable to hold new screws in a manner that meets our safety and warranty levels.
Plastic toilet seats
Bumpers on most seats are molded in and are unable to be replaced. Hinges are installed using special equipment during the manufacturing process. They cannot be replaced.
Other
Why does the front of my seat over/under hang the toilet?
Our seats are designed to fit most manufacturers' bowls. Our seats featuring Precision Seat Fit™ provide adjustability for the perfect bowl fit. Please click here to learn more about our toilet seats with adjustability.
Should the toilet seat hinge match the color of the toilet seat on all models?
Yes, the hinges on our plastic seats match our seats, but there may be a slight shade difference, depending on the color. We also offer a variety of metal hinges that you can coordinate to your existing bathroom accessories.
Why is my toilet seat turning blue/grey?
The surface of a person's skin and the surface of a toilet seat may host numerous types of bacteria, organic and inorganic compounds, chemicals and other substances. These may change over time, depending on the person's body chemistry, hygiene, diet, and other factors. Sometimes, substances on the surface of a person's skin react with substances on the surface of the toilet seat, causing discoloration to the seat, the skin, or both. Unfortunately, there is no effective way to predict these reactions, but they may be prevented, in some cases, by changing to a plastic toilet seat.
Why is my toilet seat cover falling down?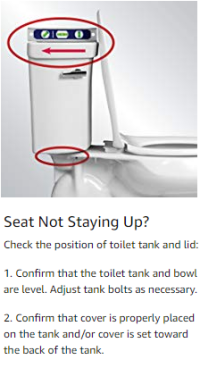 If your toilet seat cover is falling when it should remain upright, it might be caused by a few things.
Confirm that the tank

cover

is properly placed on the tank, towards the back.

The toilet tank itself may have shifted forward over time. Gently push it back, which should allow the seat to raise and lower normally.

Confirm that the toilet tank and bowl are level, adjusting tank bolts underneath if necessary.

If the seat is new, it may be a case of tight or loose hinges. If tight, open and close the seat and cover several times to loosen.
Cleaning and Maintenance
What are the best products to use for cleaning my toilet seat?
To clean and preserve your seat's glossy finish, please use either anti-bacterial wipes, dish soap or anti-bacterial hand soap only. Wipe both sides of the cover and both sides of the ring. Thoroughly dry the cover and the ring with paper towel.
Please do not use bleach, vinegar, pine or essential oils, chlorine, acid, scouring powders, detergents, disinfectants, or products in aerosol cans. Harsh chemicals and abrasives can rub away the paint finish on enameled wood and the metal finish on hinges. This can create a dull look on plastic toilet seats and a worn look on enameled wood seats, along with corrosion and peeling of the metal hinge finish.
Why does my toilet seat appear to be stained, faded or scratched?
Most cleaners used in bathrooms are harsh and abrasive; when these agents have been used, staining, fading or surface scratching can occur. Toilet bowl cleaners can also cause staining, fading or scratches. Any results from these causes are permanent.
Contact Us
Bemis Manufacturing Co.
300 Mill Street
Sheboygan Falls, WI 53085-0901