Lift the Lid on a New, Manly Bathroom Experience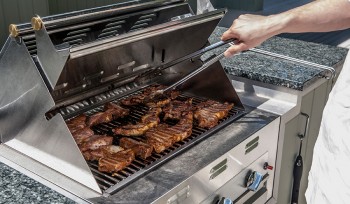 If you're a guy, you understand the subtle feeling of pride that fizzes up as you're about to lift the lid on your GrillMaster 5000 to show your buddy the Insta-Light burners and the Sensa-Temp controls. It's cool stuff, and your GrillMaster will be the talk of the neighborhood.
But no sooner are the words out of your mouth when your buddy whips out his phone and shows snaps of his GrillMonster 7000, the beast that sniffs how much meat is loaded on the grates and automatically cranks the temp and sets the cook time. It's a walk-away-and-forget-it wonder of Grilldom.
Just like that, your GrillMaster is an incapable tin can of inadequacy. Even though it's brand new, the wheels bleat pitifully as you push it to the farthest corner of the garage.
Hate it when that happens.
Want to lift the lid on something totally new, something your buddy doesn't have and probably hasn't even heard of yet?
It's the King of Toilet Seats. With Flex•Zones™, Ergo•Curve™ Technology and 16% more seating area, this marvel of seating relieves pressure points and gives you comfort where it counts.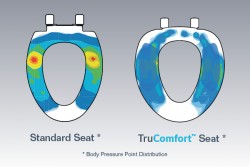 Ever sit on a skimpy toilet seat, the kind that's unyielding and hard to the touch? Standing up can feel, well, like you got smacked on the backside, right?
That's where Ergo Curve comes in. The contoured design of the ring features a modern, curved shape and a slightly increased seating area. It accommodates a wide variety of backsides with ease, while still looking great in your bathroom.
And let's talk about flex zones. They're strategically placed inserts in the ring that relieve pressure points, giving you a comfortable place to perch, no matter how long it takes.
We didn't stop there, either. Along with flex zones and Ergo Curve, TruComfort gives you all the features you've come to expect – and appreciate – about our toilet seats: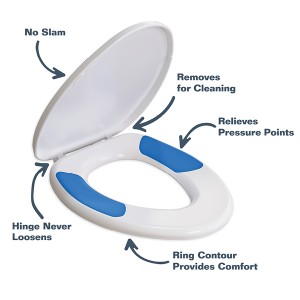 It's time to lift the lid on a new, manly, bathroom experience. On a toilet seat that gives you comfort and great design, with features that make your life a lot more enjoyable.
So go ahead – let your buddy gloat about his GrillMonster 7000. Or was it the GreatMiser 7? Anyhow, while his eyes are filled with smoke, you're watching the game in peace on TruComfort. If he taps the lid on that beast, he'll lose a finger. And when he stumbles to the bathroom to nurse his swollen hand and has to sit on his skimpy, cold toilet seat, you'll be experiencing the comfort of flex zones and the ease of Ergo Curve. And all you have to do is tap it to close it.
You, my man, have TruComfort. The King of Toilet Seats.
Ready for more manly inspiration? Learn the difference between a Man Cave and a garage here, and how seating makes all the difference in the distinction.