Three Steps for Mixing Metals in Your Bathroom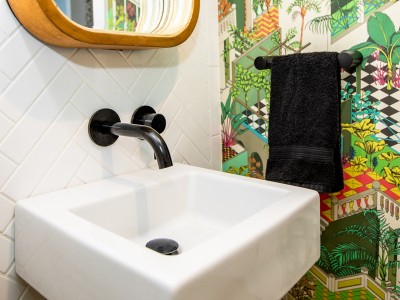 Some bathroom elements have greater impact together: A warm bath and your favorite tunes. Flickering candles and scented sprays. Gold trim and matte black accents.
Just like your favorite bathroom pairings, mixing metals (or "finishes," as they're known in the industry) in the bathroom is an ideal blend of design elements, a way to play up contrast or layer textures for visual interest.
Determining the right combination of metals can feel tricky – too much of one and the bathroom looks dated; not enough and it feels tepid.
Want to Dip Your Toe in the Water First?
Place a few metal-framed pictures on your bathroom vanity and watch how the frames catch the light and add texture. If they feel "off," switch them out.
Both are available with matte black, chrome, or brushed nickel hinges that add a subtle flair.
Made of enameled wood using eco-friendly processes, these seats are durable and add beauty to your bathroom.
They install easily and will never loosen with use.
Ready to Jump In?
Here are three strategies for incorporating the mixing metals trend into your bathroom. There's no "perfect" blend, so let your personality shine as you go!
Select One Metal to Star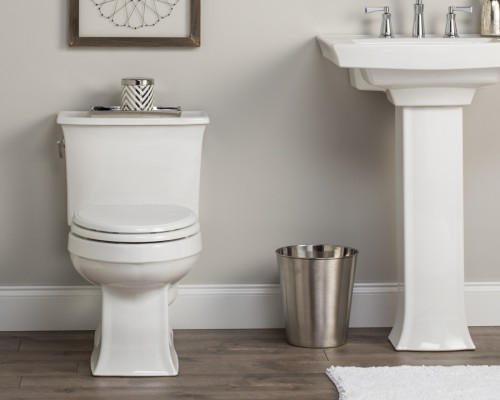 Pick a dominant finish to use as a majority. If you've chosen a modern feel, matte black is a perfect match; if you have a traditional bathroom design, satin or brushed nickel is ideal.
Avoid choosing a high-shine finish as your dominant metal. This can come off as visually jarring and steal the show from your overall look. Instead, let your main metal "shine" in a more subtle way by choosing brushed nickel or satin, for example.
After you've picked your star, select complementary metals as "satellites" to add spark.
Starring metal idea:
Benton®

Matte black hinges add a grounding feel

Contemporary cover design

Easy installation, will never loosen with use

Available with chrome or brushed nickel hinges
Mix Warm and Cool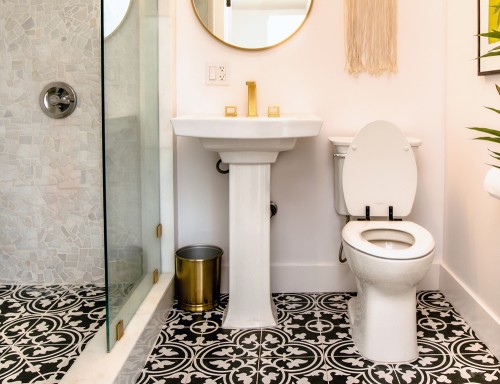 Warm metals include brass, copper, gold, and nickel. Cool metals include stainless steel, chrome, and silver. Matte black is an ideal neutral.
Warm metals pop nicely when they're paired with cooler metals. Also consider your color palette as you mix and match. For example, warm metals harmonize with white, beige, and taupe, while cool metals stand up well with blue, green, and gray.
Cool metal idea:
Weston™ with chrome hinges
Cover lines add streamlined feel
Easy installation, will never loosen
Available with brushed nickel or matte black hinges
Keep Texture in Mind
You can find metals in a variety of textures to add great visual interest. Hammered silver, matte black, and polished chrome play add depth and draw the eye around the space.

More Resources
LA designer Breegan Jane shares advice for mixing metals in the bathroom
Read our other design-inspired articles here.