Bemis Manufacturing Company to Launch Empower Toilet Seat
Eases caregiver work by delivering consistent, customizable perineal cleaning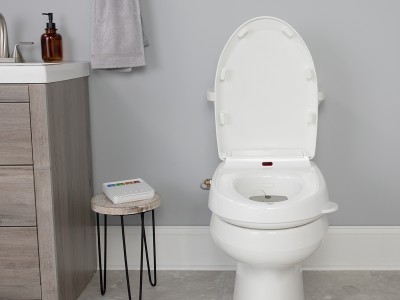 Sheboygan Falls, Wis. (January, 2023) – Bemis Manufacturing Company, a leading bidet and toilet seat manufacturer, announces that their new Empower™ Clean Care™ cleansing toilet seat has an expected launch date of summer, 2023, targeted toward independent living, assisted living, and memory care facilities. Because Empower delivers automated, consistent cleansing, it's ideal for use in these settings, where professional caregiver time and effort is often spent assisting residents with toileting.
Approximately 50% of the residents in extended care facilities suffer from incontinence, which can also lead to urinary tract infections and other issues that can quickly lead to hospitalization. Proper perineal care is essential in keeping residents healthy and protected. As a result, caregivers spend much of their time manually cleaning residents and applying topical treatments to address these issues. For many, this process can feel embarrassing and is a limitation on their personal independence.
Empower addresses this process. By using its remote with large, colored buttons, users and/or caregivers can choose from standard bidet functionality. Options for superior cleansing include a pH-balanced spray and a zinc oxide barrier spray that protects the perineal area from acids deposited by urine and fecal buildup. The process eliminates the need for wiping and fully dries the user at the end of the cycle.
Empower fits a standard elongated toilet bowl. Its raised height eases sitting and standing, and optional grab bar mounting brackets are also available. It features Bemis's STAY-TITE Seat Installation System that provides for easy installation and a never-loosens fit; it also has Whisper Close hinges that eliminate cover slamming.
Having a healthy perineal area contributes to a delay in individuals moving to higher levels of care," said TJ Stiefvater, vice president of marketing for Bemis. "Empower automates the process of effective perineal hygiene, increasing residents' dignity and caregiver satisfaction, and delivering a payback for facilities due to these benefits."
About Bemis
Bemis Manufacturing Company was founded in 1901 and is headquartered in Sheboygan Falls, Wis. As a leading global manufacturer of toilet seats and other home products, the company distributes its products under the Bemis, Bio Bidet by Bemis, Flow by Bemis and Mayfair by Bemis brands through retail and wholesale channels. Bemis is also one of North America's top non-automotive producers of contract plastic components serving consumer, commercial, medical, and industrial markets worldwide. For more information, visit Bemis Manufacturing Company or toiletseats.com.