Bemis® Releases New Push n'Clean™ Easy-to-Clean Toilet Seat That Cleans Smarter and Easier
Clean the Most Important Seat in the House Without the Mess or Stress
SHEBOYGAN FALLS, Wis. (November 1, 2019) – Almost everyone has been there: cringing at the thought of cleaning the dreaded toilet seat. Toilets seats, though arguably the most important seat in the house, can be the least favorite to clean. Over 80 percent of consumers value hygiene and cleanability when choosing a seat, yet limitations in functionality often keep cleaning them ranked among the worst of household chores.
Bemis' new Push n'Clean™ easy-to-clean toilet seat turns this dreaded household chore into one of the easiest, featuring a unique easy-release system. Push n' Clean's innovative hygienic seat design allows users to remove the seat with a simple push-and-lift motion to easily access and clean hard-to-reach areas; simply open both the lid and ring into an upright position, push the seat down to release, and lift off.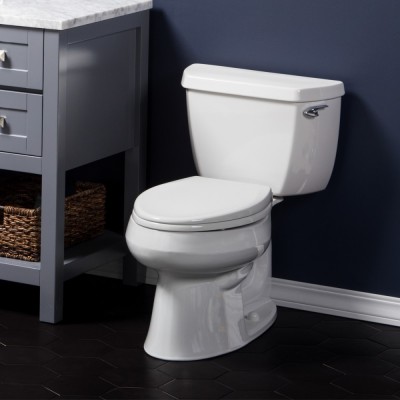 Push n'Clean features a stylish look and feel that complements bathrooms with its slim, contemporary shape. Additionally, the revolutionary seat improves daily use and cleaning by eliminating pinched fingers with its Whisper∙Close® slow-close design, while Super Grip™ bumpers add greater stability.
"Our Push n'Clean seats allow users to take bathroom hygiene to the next level by minimizing exposure to harmful contaminants and saving time," said Melissa Glancey, vice president of market development. "This innovation makes everyday lives easier by simplifying a dreaded household chore."
Even more consumers consider stability the leading requirement when purchasing a seat. Bemis' innovative STAY-TITE™ Seat Fastening System™ prevents loosening by staying firmly attached the toilet. The seat also features Precision Fit™, providing adjustability for the perfect bowl fit, and easily adapts to most manufacturers' round or elongated bowls.
All Push n'Clean toilet seats are made in the USA with eco-friendly materials and processes and are available in White. Prices may vary by location and all seats are backed by a One-Year Limited Warranty.
About Bemis
Bemis Manufacturing Company was founded in 1901 and is headquartered in Sheboygan Falls, WI. As a leading global manufacturer of toilet seats, the company distributes its toilet and bidet seats under the Bemis, Mayfair by Bemis and Bio Bidet by Bemis brands through retail and wholesale channels in the United States and worldwide. Bemis also offers other products for the home including air purifiers and touchless faucets. In addition, Bemis is also one of North America's top non-automotive producers of contract plastic components, serving consumer, commercial, medical and industrial markets worldwide.