Bemis to Introduce Time-Saving Next Generation STAY•TITE Toilet Seat Fastening System
New system reduces threading time by almost half and never loosens with use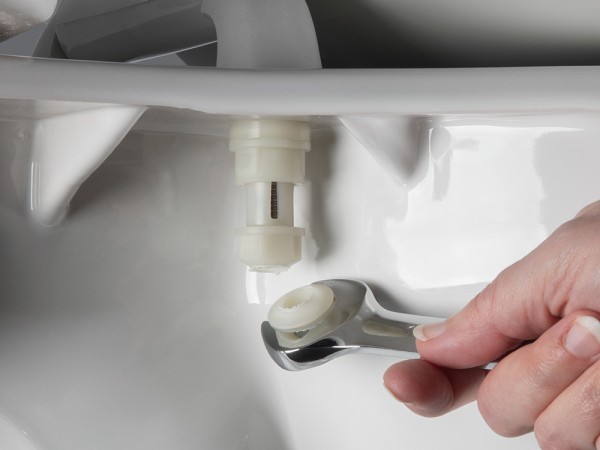 Sheboygan Falls, Wis. (January, 2023) – Bemis Manufacturing Company, a leading bidet and toilet seat manufacturer, announces its new Next Generation STAY•TITE Seat Fastening System will be introduced at the 2023 KBIS Show, taking place January 31 – February 2 in Las Vegas, NV.
Introduced to the commercial market, Next Generation STAY•TITE helps users install the toilet seat in less time, while guaranteeing a fit that never loosens. It accomplishes this by using a plastic nut assembly that pushes up and threads easily – in half the time of a standard bolt – eliminating the need for individual nuts, rings, and washers.
The unique finned bushing eliminates the gap in the mounting hole, preventing hinge movement. The system features a nut that is designed to snap off when proper tightness has been reached, ensuring that the toilet seat will never loosen with use. For commercial installers, Next Generation STAY•TITE saves time and reduces effort.
In the Bemis booth during the KBIS show, Bemis will display a standard toilet seat – one side will have the original STAY•TITE Seat Fastening System, while the second side will have the new Next Generation STAY•TITE. Visitors will have the opportunity to try both versions and realize for themselves how much quicker the new system installs.
"We're excited to introduce our latest innovation at KBIS," said TJ Stiefvater, vice president of marketing for Bemis. "Our solutions make everyday life easier, and commercial installers will appreciate how our Next Generation STAY•TITE definitely delivers on this."
About Bemis
Bemis Manufacturing Company was founded in 1901 and is headquartered in Sheboygan Falls, Wis. As a leading global manufacturer of toilet seats and other home products, the company distributes its products under the Bemis, Bio Bidet by Bemis, Flow by Bemis and Mayfair by Bemis brands through retail and wholesale channels. Bemis is also one of North America's top non-automotive producers of contract plastic components serving consumer, commercial, medical, and industrial markets worldwide. For more information, visit Bemis Manufacturing Company or toiletseats.com.