How to Tighten a Toilet Seat
Fix a Loose, Wobbly Toilet Seat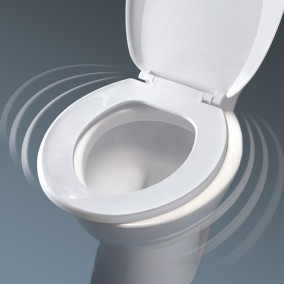 Does this happen in your house? Someone comes out of the bathroom, complaining that the toilet seat is loose...AGAIN. You just tightened it last Saturday and a few days later, it's wobbling.
Frustrating, isn't it?
Toilet seats may loosen for a variety of reasons: the repetitive motion of raising and lowering the seat and cover, plus the fact that it's one of the most-used places in the house. Having a loose toilet seat isn't merely annoying; it's also a safety concern.
So let's put a stop to it!
You'll need the following tools. Please make sure to use them carefully, as metal can easily scratch porcelain.
Screwdriver

Wrench (adjustable and/or standard)

Pliers
First, open the hinge caps and locate the bolts. If your seat is out of alignment, now is the time to center it on the bowl. Holding the seat in place, look under the bowl. If the bolts are attached by wing nuts, use your screwdriver to hold the bolt in place while manually tightening the wing nuts. Don't overtighten – this could strip or break the bolt. Check to make sure the seat is tightened, then close the hinge caps.
You can also open the hinge caps and, after positioning the seat correctly on the bowl, tighten the bolts with a screwdriver, using a clockwise motion. If the bolts spin or don't tighten, you'll need to grip the wing nut with the pliers while tightening the top of the bolt with the screwdriver.
Have a toilet seat with metal bolts and nuts?
First you'll need to get the toilet seat back into its proper position. Next, hold the nut in place with the wrench and then tighten the bolt with a screwdriver.
For either of these scenarios, if the seat still wiggles after you've tightened it, you may need to insert washers on the nut between the bolt and the underside of the toilet.
If you're a natural-born DIYer and this is working out finer than frog's hair, great! But if it's starting to feel like a burr under your saddle, we've got the perfect solution: a toilet seat with our STAY-TITE® Seat Fastening System™ that Never Loosens™.
It's easy to install a Bemis toilet seat with STAY-TITE! The lower portion of the nut is designed to snap off during installation, indicating that perfect tightness has been achieved. And when it's time for cleaning, the hinge system lets you quickly and easily remove the seat.
Why not have a seat that never loosens, cleans up like a charm, and never needs tightening again? To send your old toilet seat out to pasture, click here.
For more information, check out The Reading Room. Filled with articles to inform and inspire!
How to Loosen Your Toilet Seat
How to Remove and Replace a Toilet Seat
Who Knew That Cleaning Your Toilet Seat Was So Easy!