Diaper Free After 20 Days? Influencer Noelle Boyer Shows You How!
NextStep2® Simplifies the Process
Potty Training Without a Timeline
*This is a sponsored post
I thought potty training a second child would be easy. I did it before, I can do it again.
They say every child is different. I fully affirm this statement now. Potty training my first, Nolan, wasn't seamless, but he was fairly adaptable. It took us 12 days to confidently say he was fully potty trained (this includes naps and nights).
Nolan did still have a few accidents but overall, I could trust that he knew when and how to use the potty. 12 days with our second came and went. Austin displayed a mix of stubbornness and showing off. He quickly mastered peeing, which misled us into thinking he would be our quickest potty trained child. By day 4, we learned he was afraid of pooping—more on that later. I personally enjoy potty training. It's quality time with your child. You are focusing completely on them. It's a special time to reconnect and figure out how their little mind works.
In this post, I will outline how we taught Austin to use the toilet, listen to his body & overcome his fear of pooping. This post is sponsored by Bemis, who sent us their NextStep2® potty training toilet seat to assist us. It was a vital tool for Austin.
Our Decision to Start
First go into potty training without the expectation of teaching your child how to use a toilet. Instead consider it as an opportunity for you to discover how your child learns. This helped me to take the "pressure" off myself and my kid. We knew Austin was ready because weeks leading up to our "start date" he showed interest in using the potty by talking about it, flushing the toilet and even using it a few times. We picked a long weekend, so my husband could be home to help. When you have to stare at a child naked for days having another person to help with the other kids is a must.
The Method
I HIGHLY recommend reading, Oh Crap! Potty Training: Everything Modern Parents Need to Know to Do It Once and Do It Right before you begin. She covers all the frequently asked questions. She breaks everything down simply. I am a rule follower so I strictly followed what she said. For instance, don't ask your child when they need to go to the bathroom. Instead, tell them it is time. Also, don't say "pull your pants down." That's not logical for a child. They can't pull their pants…instead say, "push your pants down."
In the book, Jamie Glowacki writes, "if you want to potty train with the least amount of effort, the window of opportunity is between 20 and 30 months." She goes on to say, "if you wait too long after 30 months, the process of potty training becomes a chore for you as well as for your child. There will be fights and power struggles, and things will get ugly fast."
She offers other instances to consider if your child is ready like, "Can you child somehow ask for a snack when he's hungry?" or "Can you child throw a tantrum for candy at the supermarket"?" If yes, then they are ready.
The book breaks down potty training in seven blocks:
Peeing and pooping while naked, either with prompting or without
Peeing and pooping with clothes on, commando, with promoting or without
Peeing and pooping in different situations, with promoting or without
Peeing and pooping with underpants, with promoting or without
Consistent self-initiation
Night and nap (unless you are choosing to do it all together)
College. Probably still needing to prompt occasionally. Again, there is no timeline. Your kid might breeze through block 1 in one day but stay stuck on block 4 for 4 days. Just be patient, encourage, regroup but keep going.
Potty Chair vs. Potty Seat
For the first week, we exclusively used a stand-alone potty chair. I personally hate these chairs because I find them gross and messy. I can't tell you how many times my kids almost knocked over the potty chair full of pee. Yuck. However, it is useful when you're in the early days of potty training. We made sure that seat was always within arms reach of Austin. If he went outside, the seat came too. If he was eating, the potty seat was beside him. We constantly asked him, "hey where is your potty" to make him look and point to it.
Once Austin graduated from having us watch his every move, the potty chair was left in his room for his nap & middle of the night wake ups. We are still teaching him that when he feels the urge to go at night, to get out of bed and use his potty.
Otherwise, Austin uses the Bemis NextStep2 toilet seat. It comes with an attached potty training seat, which is perfectly sized for his little bum. The attachment stays snug by a magnet so you don't have to worry about it falling down on you if you don't use that piece. You have to ensure that if you have a male child, he sits back far enough so that he doesn't pee over the seat lip.
I also like that the seat is a soft close. One of my pet peeves is hearing toilet seats slam. The seat is adjustable to fit your toilet just right, which wasn't the case for a different brand I bought before and returned. I also hate cleaning toilets so Ryan attests that the seat hinges are easy to remove for proper cleaning. A hygienic seat is key if you have boys who don't always get their angles right.
What to Expect on Day One
One day one, your child will be naked. You need to pay attention. This means the to-do list, laundry and even the television doesn't matter. Your focus is watching your child to see what he/she does right before they go pee or poop. Once you see their "tell" plop them on the potty. If your child has an accident, it's on you because you missed the cue. If/when this happens, get your child involved in the clean up. Remind them where they should be going and wait for your next change to get it right and celebrate.
Quick point on rewards, keep them small. What would you do for your child for clearing the table after a meal, throwing something in the trash, or sharing with a sibling? Don't rush to the cookie. High fives and a celebration dance are top notch rewards for toddlers.
POOP
Austin was afraid to poop. After Day 4, he withheld his poop for 3 days. It was so painful watching him on his tiptoes circling saying "poop" or "diaper" over and over. I almost gave in but reached for our potty training book instead. Glowacki gave me some needed insight for my patience. She writes, "going from pooping in a diaper to pooping in a potty can be freaky as hell." Remember the first thing your child gets after birth is a diaper. After the sweet skin to skin moment, that diaper goes on & stays on.
When Austin showed his distress, I grew worried and desperate. Any time he did his poop dance we hurried him to his potty but he kept "stopping it" scared to literally let go.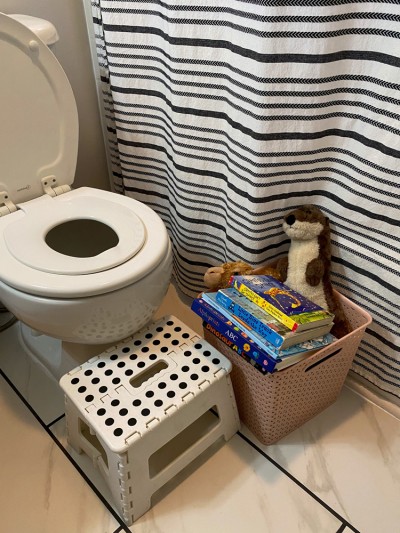 Here are all the things we tried:
Having him blow bubbles. We read the action of blowing bubbles is like pooping.
I made him a "calm jar" —glitter, water and oil in a jar. It resembles a lava lamp without the heat.
I sang songs (I made my own rendition of "Let It Go" all about poop)
I read his favorite books aloud
Read "Once Upon A Potty"
Gave him prune juice
Watched TV on the potty
Nothing worked consistently. We even put a diaper on him and cut out the butt. I regretted the idea and removed the diaper. I kept imagining him sneaking to a corner and poop landing on my floor. Austin did poop a few times in the wrong places but those weren't his fault (the garage, outside and in his bedroom). It was definitely our fault because we were distracted from watching him each time.
Despite our efforts this is what worked for Austin:
We gave him privacy. We would casually walk away saying, "Oh I forgot something. I'll be right back."
Making the bathroom "comfortable." We equipped his throne with books, stuffed animals and a stool to rest his feet.
We learned if it's not his idea, it won't get done.
We Day- and Night-Trained Together
I suggest starting nap and night training around day 3 of potty training. I think, if you're going to potty train, may as well get it all done at once. Consider this, if you don't teach it now, when will you? Your child will be older later. Ditching those Pull Ups or night diapers will become a power struggle. Your child will have all the control. Sounds frustrating.
To do nap and night training, you have to be prepared for the following: 1. cutting liquids about 30 min-1 hour before bed. 2. have a potty near their beds 3. wake them up at night at about the length of their naps, if they're staying dry at naps. You will wake up at 3 am to hoist your spaghetti deadweight child onto a potty. But teaching this early will be worth it. I can't think of a reason why not to do it together.
Where Are We Now?
We are over 20 days into potty training. He is 100% DIAPER FREE. He is initiating when he needs to pee and poop. He is still poop shy. It's still a production of sorts, but everyday he's getting more confident. I'm so proud of his progress. I love seeing how happy he is every time he poops. He literally jumps off the potty screaming, "YAY!" looking for high fives. Austin has had a few nighttime accidents due to us waiting too long to wake him up at night. My goal for us is to be ready for preschool this fall without diapers or accidents!

Find my answers to FAQ about potty on my IG stories highlight "The Potty."