How to Measure a Toilet Seat
What Size Toilet Seat Do You Need?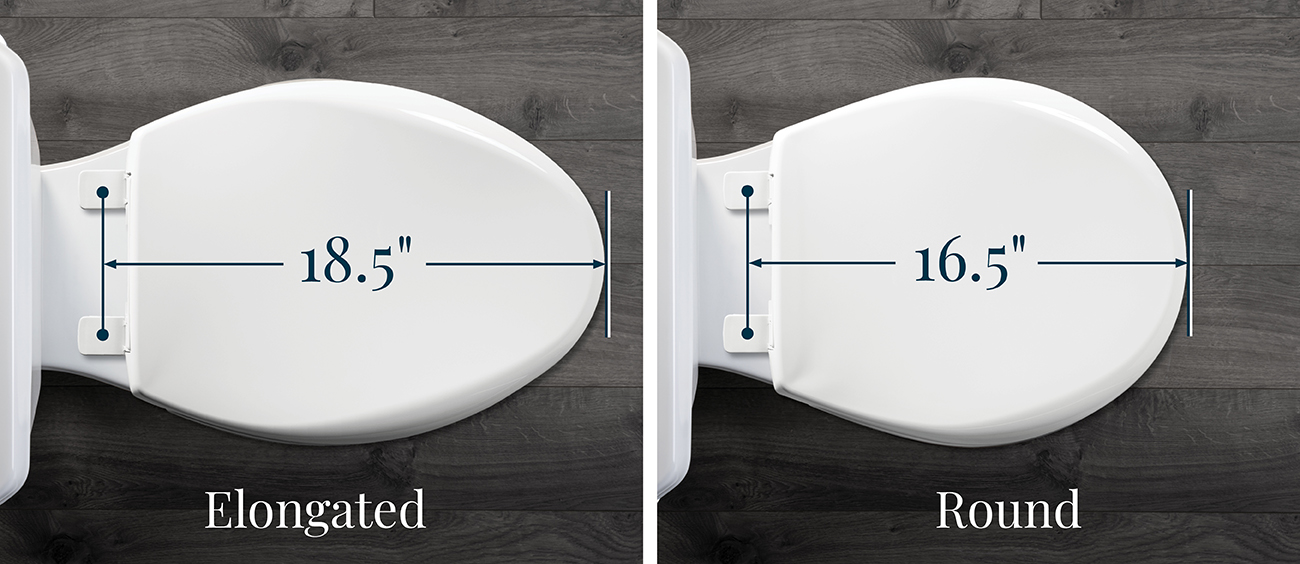 You've come to the right place!
It's not always easy to know what toilet bowl size you have, or if the toilet seat you need is universal. We're here to help.
Round or Elongated?
Every year our Customer Service team takes calls from people wondering, "Are all toilet seats the same size?"
It's a good thing they ask, because toilet seats are designed to fit one of two bowls: round or elongated. A round toilet seat absolutely won't fit an elongated bowl, and, as you may have guessed, the opposite is also true.
How to figure it out? Grab a tape measure and a way to record what you find and let's get started.
As we said, toilet seats come in two sizes: round and elongated. Every toilet seat is one of these two, indicated on its packaging.
Using a tape measure, determine the distance between the center of the mounting holes in the back of the toilet. The standard measurement for this distance is 5 ½", with a midpoint of approximately 2 ¾". Place the hook of your tape measure at the midpoint and measure to the outside edge of the toilet bowl rim in front.
A round toilet bowl will measure approximately 16 ½" in length. An elongated bowl is approximately 18 ½" in length. Based on your measurement, order the appropriate seat – round or elongated – for your bowl. Our seats are designed to fit most manufacturers' round or elongated bowls.
Measure Twice...
We encourage you to heed the old carpenter's axiom and "Measure twice, cut once." Or in this case, "Measure twice, order once." There's no point in needless frustration when a few more seconds will help you confirm.
Have a specialty bowl or still can't figure out what size seat to order? No problem! Click here to view our video about determining the correct size seat for your bowl, or call our Customer Service team at 888.722.6488.
Visit The Reading Room to read articles about design inspiration, toilet seat materials, and how to loosen and/or tighten the little rascals. A few of our favorites include:
What Material Should You Choose for Your Toilet Seat?
How to Remove and Replace a Toilet Seat
How to Loosen Your Toilet Seat
How to Tighten Your Toilet Seat
Who Knew That Cleaning Your Toilet Seat Was So Easy!