Rise to the Occasion!
Raised Toilet Seat Is Your Partner in Surgery/Injury Recovery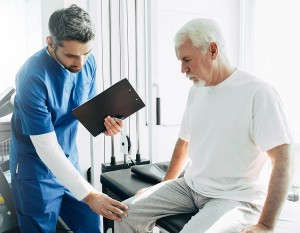 Are you one of the thousands of people considering knee or hip replacement surgery? The numbers are growing, so it's likely that you know of friends or family members who have undergone this procedure.
According to Orthopedic Design & Technology, there are over 1.6 million hip and knee reconstruction surgeries performed annually in the United States. By 2024, procedure volumes will exceed 2.1 million!
If you're planning on this surgery, you know the importance of preparing. Trusted partners like surgeons, nursing staff, and physical therapists are critical to your success.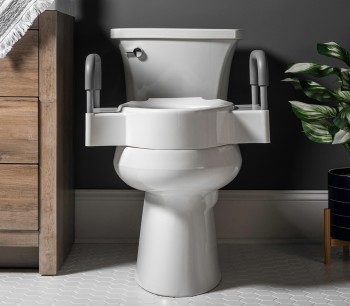 But have you considered the partners you'll need at home, especially in the bathroom? For example, when sitting on the toilet, surgeons may recommend that hip replacement patients not bend the hip beyond 60 – 90 degrees. Many standard toilet seats don't accommodate this, so it may be time for a new "partner" that does.
Meet the Rise Elevated Toilet Seat, designed especially for temporary use! It provides 4.5" of additional height to ease sitting and standing. It has a weight limit of 300 pounds and comes with two Support Arms, tested to 200 pounds on each side, making it perfect for a variety of users and physical abilities.
It fits both round AND elongated bowls, eliminating the measuring and guesswork of wondering what size toilet seat you need.
Rise has features that promote your security and hygiene in the bathroom:
Stay•Tite installation system makes installation easy. Seat will never loosen with use.
Support Arms are firmly attached to the seat, providing security. No more grabbing a wobbly towel bar or the side of the sink to help you sit and stand.
Easy•Clean hinges allow the seat to be removed from the mounting base for thorough cleaning.
Smooth, glossy surface is easy to wipe clean.
Ring hole is a universal size, providing easy access for personal hygiene and comfort.
Installation video shows how easy it is to install Rise.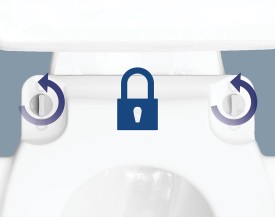 Rise also delivers value. In addition to all the secure features, it's competitively priced. You won't find a comparable product on the market that delivers all of this – plus the security – in one product.
And Rise isn't "just" for post-knee and hip replacement surgery. Often, people experiencing back injuries, sports-related issues, or short-term pain may find it difficult to use a standard toilet seat. That's when Rise comes to the rescue, providing the additional height many users need during these times.
Yes, Rise is designed for temporary use, but if you find yourself appreciating its security, its elevated comfort, and its dependable Support Arms so much, we understand if it becomes a permanent "partner" in your bathroom.
Learn more about the Bemis Independence line of products, known for security and safety. We've been manufacturing toilet seats in the United States since 1932, so you can count on our expertise and trusted brand name.