The Best Toilet Seats for Potty Training
What's the Best Potty Training Seat for Boys and Girls?
The NextStep2® and the Little2Big™ Built-In Children's Potty Training Seats Fit Both!
It's important to choose the best potty training seat for your toddler – and your family – so we simplified the process!! Our Little2Big™ and NextStep2® built-in potty training toilet seats are not only designed for your toddler, but also fit the whole family, making the potty training process easier, cleaner, and more fun!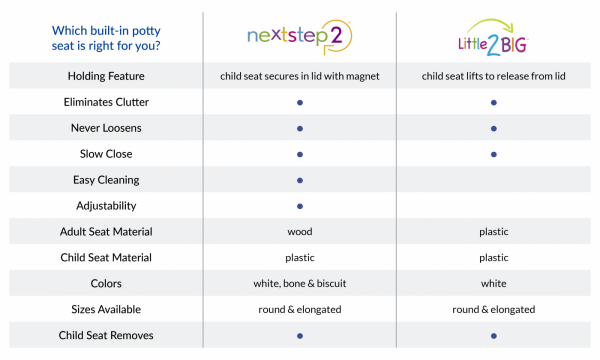 Potty Seats That Make Training Easy!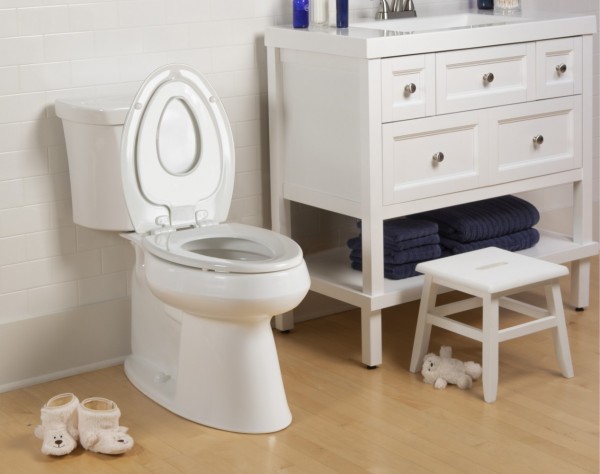 Both Little2Big and NextStep2 are sized to fit the whole family, and each features a removable plastic child-sized ring. The child ring on Little2Big fits into the cover, while the child ring on NextStep2 secures magnetically into the cover.
The child rings are designed to let your child easily lower it himself, boosting confidence and making him an important part of potty training. And when your toddler feels confident, he's more likely to enjoy the process and want to keep going!
Both the Little2Big and NextStep2 eliminate the mess and clutter found with stand-alone potty chairs. The cleaning and sanitizing process of a stand-alone chair is unappealing, but our built-in potty seats eliminate this! Simply flush the mess away and go on with your day. No more hassle.
When potty training is finished, instead of storing a bulky, stand-alone potty chair for your next child, Little2Big and NextStep2 give you a great benefit: Simply clean the plastic child-sized ring, remove it, and store it for your next child. The adult ring and cover remain fully useable by the entire family!
Last, Little2Big and NextStep2 both feature our STAY•TITE™ Seat Fastening System™ that allows for easy installation, plus ensures that the seats will never loosen. Your toddler will feel confident using the seat. They also feature Whisper•Close®, the slow-close feature that eliminates slamming and pinched fingers. These give your child confidence during potty training!
How Are NextStep2 & Little2Big Different?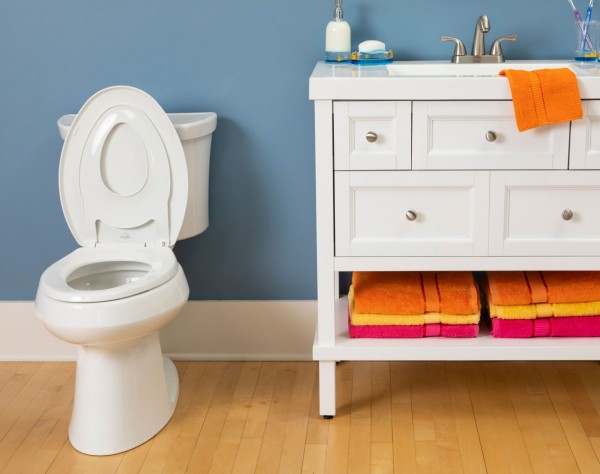 First let's talk about materials. Little2Big is our all-plastic model. The adult ring and cover, along with the child ring, are made of resilient plastic with molded-in color.
NextStep2 has an adult ring and cover made of enameled wood, which provides durability and a substantial feel. The child ring is resilient plastic.
Then come the extras! NextStep2 has all the features of Little2Big: STAY•TITE™ and Whisper•Close®. It also has Precision•Fit®, the feature that lets you align the seat on the bowl during installation for the perfect fit, plus Easy•Clean® hinges that let you remove the seat to reach hard-to-clean areas.
Because we designed each seat with different features, you have valuable options! Made of strong, resilient plastic, Little2Big is offered at one price range; NextStep2, made of enameled wood and designed with extra features, comes in at a slightly higher price point.

What Are the Benefits for My Family?
The fun comes because you choose the seat that best fits your budget and lifestyle! The benefits include:
A potty training toilet seat that's designed for the whole family
A boost to your toddler's confidence and her "I did it!" attitude
Eliminating the mess and clutter of using a stand-alone potty chair
Making the potty training process easier
Whether you're just starting the potty training process or need tips to help you along the way, our library of potty training articles has everything you need!