Bemis' NextStep2™ Empowers Your Child During Potty Training
Child/Adult Toilet Seat by Bemis Gives You Stress-Free Potty Training
SHEBOYGAN FALLS, Wis. (November 1, 2019) – For child and parent alike, potty training can often be a challenging experience. Providing your child with an opportunity to exercise independence and decision-making in accomplishing this milestone is important.
Bemis' NextStep2™ Child/Adult Toilet Seat answers these needs! The redesigned seat features an improved, robust hinge and new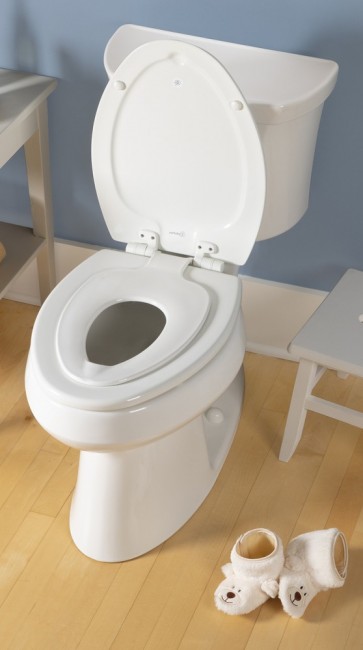 cover design. Children will use the built-in seat confidently, knowing it's sized right for them. They can also lower the potty seat themselves when needed; it easily raises, securing magnetically to the cover when not in use. When the potty training process is finished, the child seat can be stored, leaving the adult seat fully useable.
Thanks to the innovative Easy•Clean™ hinge system, the seat is not only a breeze to install, but removes easily for cleaning. Simply disengage the child seat to remove and wipe clean. The durable, enameled wood adult ring and cover are removed by lifting the hinge caps and gently pulling the seat forward, allowing users to access hard-to-clean areas.
Parents can trust Bemis' innovative STAY-TITE™ Seat Fastening System™, because its Never Loosens™ technology keeps the seat firmly and securely attached to the toilet. NextStep2's Whisper•Close® design closes slowly and quietly, eliminating slamming and pinched fingers. Precision Fit™ lets users adjust the seat during installation for the perfect fit, and NextStep2 fits most manufacturers' round and elongated bowls.
"NextStep2 empowers children with the confidence they need during potty training," said Melissa Glancey, vice president of market development. "This seat is fully useable by the entire family, and its stylish look complements bathrooms."
All NextStep2 Child/Adult seats are made in the USA with eco-friendly materials and processes and are available at major retail locations. Prices may vary by location and all seats are also backed by a One-Year Limited Warranty.
About Bemis Manufacturing Company
Bemis Manufacturing Company was founded in 1901 and is headquartered in Sheboygan Falls, WI. As a leading global manufacturer of toilet seats, the company distributes its toilet and bidet seats under the Bemis, Mayfair by Bemis and Bio Bidet by Bemis brands through retail and wholesale channels in the United States and worldwide. Bemis also offers other products for the home including air purifiers and touchless faucets. In addition, Bemis is also one of North America's top non-automotive producers of contract plastic components, serving consumer, commercial, medical and industrial markets worldwide.