Relationship Rescue: Toilet Seats 101
Every year, our Customer Service team takes thousands of calls, almost 40,000 by our last count. Trust us – if you can think of it, someone has asked it.
What's the best way to clean your toilet seat? What color toilet seat will match my bathroom? Do you have any suggestions on how I can toilet train my cat? (That last one's for real, folks; we can't make this stuff up.)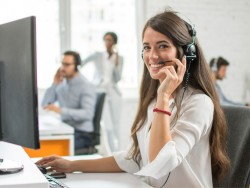 Our Customer Service team is a patient bunch. They have to be, because every now and then, someone calls to complain about a toilet seat. After a few investigative questions, it turns out that the customer bought a low-budget seat that's not holding up. It cracked. It slams. The hinges failed.
That's when a little tough love is in order. It's not easy for our Customer Service team to say, but they do it with gentleness and understanding:
"It's time to break up with your toilet seat."
Most callers accept this; after all, how long can one be expected to tolerate a seat that's not improving their life, holding up its end of the bargain, so to speak?
For other callers, it's a harder lump to swallow. Their urge is to give this shaky relationship another chance. Maybe it's not so bad, they reason.
After a few nudges from our Customer Service rep, it's a breath of fresh air for our caller to consider that, yes, a toilet seat can – and should – improve his life. Slamming, cracking and shifting just don't cut the mustard.
If that's what you're dealing with, we have plenty of options waiting. Our philosophy is simple: We want you to have a seat that improves your life. Period.
How does that happen?
Try Alesio™

If a toilet seat can be called beautiful, this enameled wood seat is it. With a modern design that matches the look of ceramic, Alesio gives you superior strength and stability. If it were on a dating website, it would tick all the boxes: Installs easily. Stays firmly attached to the bowl. Won't slide around. Removes for easy cleaning. Slow close means no more slamming. And those chrome hinges? Downright dashing!

Affinity® Is There for You
Resilient, solid plastic resists wears, chips and stains. With an understated design, Affinity goes the distance with its thoughtful features: Removes for easy cleaning. Adjustable. Stays firmly attached to the bowl. Won't slide around. No more slamming. Sound like a good relationship? We think so, too.
A Toilet Seat for the Whole Family

If potty training has become a stage set of bad rehearsals and tantrums, we have a suggestion: NextStep2®. Its plastic potty seat is sized to give your child confidence. And did we mention adaptable? The potty seat secures magnetically into the cover when not in use, and removes without any drama when no longer needed. Enameled wood adult ring remains fully usable. The entire seat installs easily, removes for thorough cleaning, stays firmly attached to the bowl, and never slams little fingers. Sounds like a win for everyone!
Add Spark to a Stale Relationship
It happens to the best of us – the thrill is gone and things get bland, dry. If that's happening, we suggest a little color. A dash of Country Grey? A splash of Dresden Blue? How about the unpredictability of Wild Rose? Our colored seats complement your décor and are so easy to install and remove that you'll want to switch your toilet seat regularly! But no matter what color you choose, you'll get a toilet seat that stays tight, removes for easy cleaning and never slams.
So take a look at your current toilet seat. If those cracks are less character marks and more cringe-inducing, if you're tired of dodging slams, or sick of sliding, it's time to break up for good.
A better toilet seat is waiting! Our Customer Service team is here for you, Monday through Friday, from 8:00 a.m. – 5:00 p.m. with support and suggestions. 888.722.6488.
Other articles are waiting, too! For more inspiration, try:
Decisions, Decisions: Choosing the Perfect Toilet Seat
What Size Toilet Seat Do You Need?
How a Toilet Seat Changes the Dynamic of Your Bathroom
The Benefits of Enameled Wood Toilet Seats and Plastic Toilet Seats