Decisions, Decisions: Choosing the Perfect Toilet Seat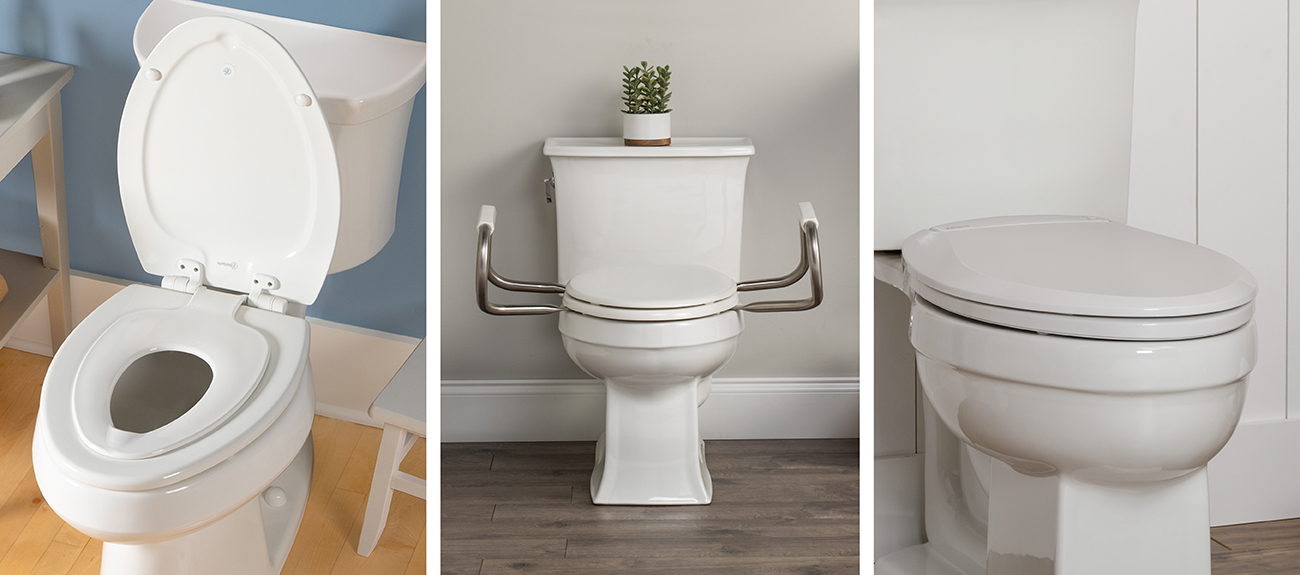 One thing that's constant throughout life is the need to make decisions. Whether it's saving for your kids' college fund or deciding how to decorate your home, you make large and small decisions on a daily basis. Your toilet seat, believe it or not, is a decision you may take for granted. It's used daily, and as you move through life's stages, a toilet seat should be versatile enough to accommodate your changing needs. Ours are!
If You Recently Moved
Congratulations on moving into your new place! It's time to make the space feel like home. First, change the toilet seat. Did you know that the average person spends one hour and 42 minutes each week sitting on a toilet? If a family of four lived in your house before you bought it, that means they used the toilet seat for 354 hours each year. Hmmmm...isn't it time for a new toilet seat?
Contrary to popular belief, toilet seat shapes aren't universal, so the first step is determining if your toilet bowl is round or elongated. Our measuring guide will help. Once you determine what bowl shape you have, you'll be better prepared to find the perfect toilet seat.
If You Want to Add a Pop of Color to Your Bathroom
Whether you're deciding between a full remodel or just need a small way to inject more personality into your bathroom, a colored toilet seat makes a difference. According to HGTV, dark colors like navy blue and black are all the rage. We offer many colors to complement your décor, and we understand that in these situations, there's a difference between Crane White, Cotton White and Euro White. If your toilet is a color that's difficult to match, ordering color chips is a great way to help you decide.
If You're Potty Training Your Children
Accomplishing potty training is a huge milestone for both child and parent. The NextStep2® Child/Adult Toilet Seat features a built-in seat that's sized just right for children. The potty seat secures magnetically into the cover when not in use, and thanks to the Easy•Clean™ hinge system, the entire seat removes easily for cleaning. Simply lift the hinge caps and gently pull the seat forward to reach hard-to-clean areas. When potty training is finished, the potty seat can be removed and stored, making this the perfect toilet seat for the entire family.
If You or a Family Member Has Limited Mobility
If you or a loved one uses a wheelchair or has back, hip or knee issues, the simple task of going to the bathroom can be difficult. Our elevated seats address these issues. The Bemis Independence line features seats that are raised a few inches higher than traditional seats, allowing you to sit and stand with ease. There are even optional arm rails for extra support. Independence toilet seats combine style and functionality. They are high gloss, solid plastic seats which allows them to fit in seamlessly with your existing bathroom décor.
If You Want an Extra-Comfy Toilet Seat
Your toilet seat is likely the most-used seat in the house, so why not make it the most comfortable? Radiance™is a heated seat that features three unique temperature settings, eliminating the unpleasant surprise of sitting on a freezing toilet seat. When you wake in the middle of the night and "gotta go," Radiance's illuminating blue night light provides the right amount of light to let you see the way without waking others.
Now that you know some of the many ways a new toilet seat can improve your life and fit seamlessly into your décor, below are several articles and links to help with the decision-making process. And remember – if you have any questions, our Customer Service team is always here to help! Call us Monday – Friday, from 8:00 a.m. – 5:00 p.m. CST at 888.722.6488.
Now that you know how to choose the perfect toilet seat, why not learn more about materials, color trends, and other ways a toilet seat can improve your life with its easy features! Our library of helpful articles gives you all the info you need. A few of our favorites include:
What Material Should You Choose for Your Toilet Seat?
How to Remove and Replace a Toilet Seat
Five Trends to Build Into Your Bathroom
What Size Toilet Seat Do You Need?