Refresh, Relax, Renew! What Blues Do for You – and Your Bathroom!
We all need a place to escape to, where we can step away from our cares and relax for a while.
The bathroom serves that purpose on so many levels. It's where we emerge from at the beginning of the day, ready to take on the world. A space for busy mothers to escape for a moment's peace. A place where, as the water tumbles into the tub and the scent of lavender rises from the steam, we have a personal retreat to soak away the day's worries.
That's why the bathroom should feel like "yours." Not an unattainable decorator version, a room that seems too good to use, but instead a space that nurtures and refreshes.
Blue is perfect for this. Blue ranges from the palest hush of a robin's egg, to the scuffs and softness of well-worn jeans, to a stately navy that holds its own against black. All these beautiful shades evoke emotions and let us connect to blue on our own level.
Where to begin? Here are three ways that introduce blue from a different perspective, allowing you the freedom to build a décor that fits your lifestyle.
Serenity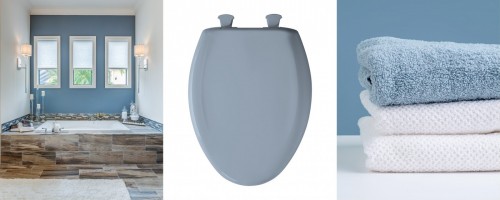 Mid-range blues are great for building a serene getaway. Adding wood tones grounds the look and introduces a moderating brown, while cool metallic accents add texture. Replicate this feel in your bathroom by adding plush bath rugs and small accents – candles, soaps and coordinating wall art – that wrap up the look. Our Twilight Blue seat is perfect in this setting! It's a pleasing, easy blue that works with grey or adds a crisp, balancing note to white walls. Best of all, this seat installs easily, will never loosen, and the Easy•Clean® hinges let you remove the seat for thorough cleaning.
Add Waves
Think of how calm you feel at the beach, hearing the repetitive splash of waves softly pulsing against the sand. We love a getaway feel, and nothing gives a feeling of escape like the beach. Bring this décor into your bathroom with cool white walls or aqua-toned tiles running horizontally behind a clear glass vessel sink. Continue the theme with natural elements like rope, water-themed artwork and jars of sand topped by small shells. Your getaway is complete with our Dresden Blue seat! Its fresh hue is ideal for the beach and it has features like easy installation and never-loosens hinges, plus the seat can be easily removed for thorough cleaning.

Drama, Anyone?
How many times have you closed the bathroom door to escape from the drama outside? We have, too. But how about creating a little excitement within its walls?
Start with navy. No arguments here – this sophisticated color carries a presence that commands attention without saying a word. And yet it shares the stage with silver, gold or white, all ideal pairings that create a room to remember.
Navy is perfect for an accent wall. It's also ideal in a row of deep blue tiles rising in a vertical row to accent a soaking tub. A vanity, painted royal blue, catches the eye; topped with elegant cobalt towels, it's a show-stopper.
Having the final say is our Colonial Blue seat. Its striking color adds a note of distinction, and with features like easy installation, hinges that never loosen, and Easy•Clean® so you can remove the seat for thorough cleaning, your gorgeous bathroom is now drama of the best kind!
Ready for more inspiration? Read our other design articles that share color and decorating ideas, plus learn more about the benefits of our enameled wood and plastic seats.
Seeing Red? Four Ways to Create Drama in Your Bathroom
Nine Ways to Incorporate Color Into Your Bathroom
Benefits of Enameled Wood Toilet Seats and Plastic Seats
How a Toilet Seat Changes the Dynamic of Your Bathroom
Five Trends to Build Into Your Bathroom