Seeing Red? Four Ways to Create Drama in Your Bathroom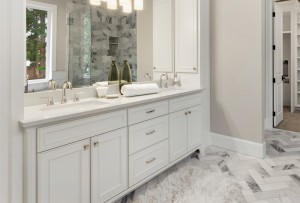 Red is the energy in a bold swipe of lipstick; the ferocious glaze on a powerful sports car; the clenching intensity of a movie's "red alert" cliffhanger.
Harnessing red can be challenging, because it ranges from warm and docile to spirited and fiery. No doubt about it, adding red, especially in the bathroom, introduces an unforgettable presence.
So how to do it right?

The best way is to approach it using your home's overall style as a guide. Below, we break it down into four main categories. Choose the style that best fits your home and start "seeing red" in your décor!
Contemporary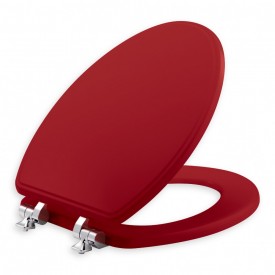 This style starts with a neutral base – think calm colors and natural materials – and interjects pops of bold color accent colors. Geometric shapes are the stars, adding definition and energy with straight lines or the movement of chevrons.
For the bathroom, start with white walls and add clear glass shower doors for an expansive feel. Bold mirrors draw the eye in, while metal frames create interest and delineate spaces.
Then go ahead and add color! Our Weston™ toilet seat in Red installs easily and its chrome hinges harmonize with its surroundings. Add coordinating sink and shower rugs to finish the look!
Traditional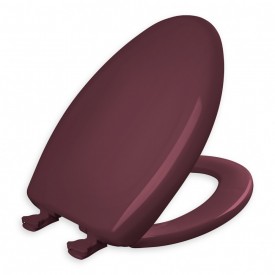 This style softens the intensity, replacing vibrant red with tones in the burgundy and deeper colorways. It's a style that evokes historical periods, like Victorian or Colonial, building on them for a cohesive look and feel. Far from boring, the Traditional style is classic and enduring.
In the bathroom, incorporate cabinets that respect the era (for example, cherry or maple to honor a Colonial style) and add appropriate metals for depth and glints of light.
Our toilet seats in Raspberry or Loganberry are ideal companions for the Traditional aesthetic. Their rich colors boost your décor, and each seat not only installs in minutes, but their innovative hinges allow you to remove the seat for thorough cleaning. Complete the look with candles and soft lighting.
Modern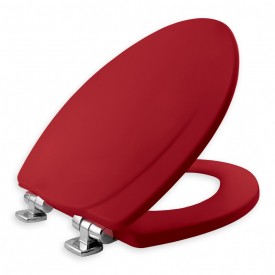 Clean and statement-making, Modern design ranges from industrial chic to the serenity of a spa-like setting. Think clean and expansive, with details like marble floors, generous, round mirrors, and clean-lined cabinets that hide clutter.
When adding red, the Modern design lets you experiment with any shade from vibrant lipstick to muted pastels. Chrome hinges make this seat an ideal match for Modern, with hinges that install easily and never loosen. Like something lighter? Our Blush seat soothes in a spa-like setting and features hinges that let you remove the seat for thorough cleaning.
Country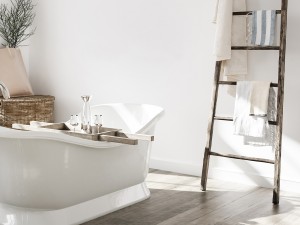 The colors flow with a relaxed feel, in chalky hues that speak softly. To build this theme, think a repurposed vintage mirror, galvanized accessories, or towels hung from a wooden ladder. Use texture and color to create a feeling of "stepping back" to a simpler time.
Our toilet seats come in colors that play perfectly with your Country décor! We created soft Wild Rose and the relaxed tone of Venetian Pink, both ideal for this theme. While they may lack the intensity of classic red, these cousins stand on their own, creating an ambience to enjoy for years.
Ready for more inspo? Our library of articles shares great tips to easily personalize your bathroom.
Nine Ways to Incorporate Color Into Your Bathroom
Decisions, Decisions: Choosing the Perfect Toilet Seat
How a Toilet Seat Changes the Dynamic of Your Bathroom
What Material Should You Choose for Your Toilet Seat?
The Benefits of Enameled Wood Toilet Seats and Plastic Toilet Seats
5 Trends to Build Into Your Bathroom