How to Create a Gold Bathroom
3 Ways to Make It Easy!

Gold has captivated humankind for thousands of years. Used as currency, for trade, and in beautiful jewelry, it's now the metal of the moment for beautifying interior spaces.
We couldn't resist the opportunity to join this trend with Benton and Weston, our newest enameled wood toilet seats with softly brushed gold hinges. They look crisp and fresh with white, and luxurious with black. Their cover design complements any décor, from traditional to modern, adding a beautiful finishing touch.
Gold itself is malleable, in both the literal sense and also in the way it can be used in decorating. Want to dip your toes into the waters of this trend? Super easy. Ready for a gold rush? Let's make it happen!
Following are three ways to create a gold bathroom – from a low-key style to over-the-top indulgence. Each option is meant to inspire, so take what works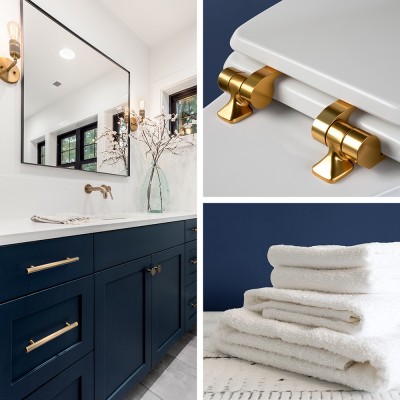 for you and build a bathroom you love!
1. White & Gold
Classic, fresh, and flexible, white and gold are an ideal backdrop. Start with white walls and a rug with gold accents or a subtle pattern. Add our enameled wood Benton® toilet seat in white – its gold hinges blend perfectly – and finish with coordinating artwork and gold-trimmed towels. White creates a light, airy space with gold adding warm glints. This simple weekend upgrade easily refreshes your bathroom!
2. Blue & Gold
Robin's egg blue? How about clear turquoise? Gold plays up the strengths of any blue you can imagine. Let's start with a deep navy for the walls. On the vanity wall, install either coordinating subway tiles or wallpaper in a statement print, topped by a gold-framed mirror. Choose a simple frame for a modern feel, or a vintage one for additional impact.
Hardware, of course, is gold! Complete the look with our enameled wood Benton toilet seat in white – it balances the depth of the room, and its gold hinges echo the hardware, tying the look together. Finish with fluffy white towels for a room to remember!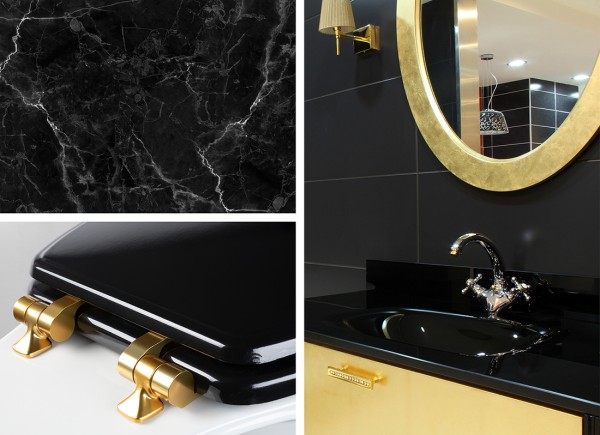 3. Black & Gold
Chic and dramatic, black and gold deliver instant impact, ranging from minimalist – think black marble, lit with gold mirrors and gold fixtures – to bold vintage.
Let's go all out with this option! Start with a luxurious freestanding soaking tub in gold. Add a statement black vanity, pinstriped wallpaper, and retro black-and-white framed artwork. Continue the theme with our Weston™ toilet seat in black. Its gold hinges are the perfect partner for this beautiful setting.
What do you get with our Benton and Weston enameled wood toilet seats?
The gold hinges have a soft, satin-like finish. Paired with a white ring and cover gives a fresh feel, while adding gold hinges to a black ring and cover is downright dashing!
Features include:
the STAY•TITE™ Seat Fastening System™ for easy install and a never-loosens fit.
slow-close hinges that eliminate slamming and keep the bathroom a peaceful place.
Our enameled wood toilet seats are made with repurposed wood sourced from local manufacturers, blended with scrap and dust from our molding operations. It's a eco-friendly process that results in a durable seat with a substantial feel.
We also manufacture toilet seats in a variety of hinge finishes that complement any décor. View them all here.
Want more inspo? Our Reading Room has plenty of articles with great design ideas!
Sustainable Toilet Seats – 3 Reasons to Buy a Bemis
Three Steps for Mixing Metals in Your Bathroom
LA Designer Breegan Jane – Benton Is an Easy Upgrade!
Refresh, Relax, Renew! What Blues Do for You – and Your Bathroom!
Seeing Red? Four Ways to Create Drama in Your Bathroom