Sustainable Toilet Seats - 3 Reasons to Buy a Bemis
No Trees Harvested to Make Our Enameled Wood Toilet Seats
The toilet seat...from a sustainable perspective
Chances are good that you're looking for a toilet seat because yours is worn, broken, or otherwise damaged. You may choose a new one based on price, availability, or appearance.
But we'd like you to think about your toilet seat from a sustainable perspective, because that's how we look at it.
Surprised?
We're committed to sustainability not only in our manufacturing processes, but also in the way we treat our environment and our communities. We want to leave them better off, which is why we continually seek ways to use our resources wisely.
Bemis is known for our enameled wood toilet seats, made with a compression molding process that we pioneered in the 1950s and are still using today.
But it's what's "under the lid," so to speak, that we'd like to cover today. (We know...a little toilet seat humor. We couldn't resist.)
Let's look at the three reasons why we don't harvest any trees to manufacture our enameled wood toilet seats. Read to the end for a bonus point!
1. They are made of wood, but we don't harvest any trees to do this
We don't harvest a single tree to make our enameled wood toilet seats. That's because we source wood scraps from Wisconsin window and door manufacturers to the tune of 70 million pounds annually. This repurposed wood is brought to our mill and ground into wood flour. Wood flour gives the toilet seats a substantial feel and a superior strength that you'll appreciate.
2. We source 3 million pounds of scrap
And not just any scrap!
Every year, the employees in our Compression Molding facility collect 3 million pounds of scrap and flash from the molding process. (Flash is excess material formed during manufacturing and is removed by sanding.) The scrap and flash are loaded into semi-trailers that bring it to our mill, where it's ground and blended with the wood flour.
Because the scrap and flash are similar in density to that of the repurposed wood we talked about earlier, it's an ideal match.
This scrap would normally be landfilled, so incorporating it into the manufacturing process prevents it from entering the waste stream, something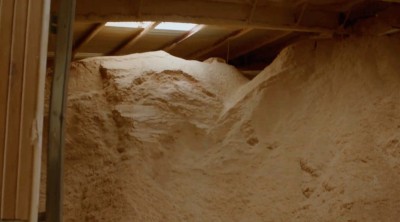 that's sustainable and we can all feel good about.
3. We collect 1.5 million pounds of dust
Every year, dust collectors in our Compression Molding facility capture 1.5 million pounds of airborne dust and dust created during production. This is sifted and incorporated into the manufacturing process.
Bonus point!
During manufacturing, our enameled wood toilet seats receive three coats of beautiful water-based paint. The seats are then packaged in recycled and recyclable cardboard packaging. Another sustainable feature!
Next time your toilet seat needs replacing, we invite you to purchase one of our enameled wood toilet seats. It's an eco-friendly purchase that also gives you:
a sustainable seat with superior strength and a substantial feel.
options like sculptured covers that add interest to your décor.
metal hinges so you can mix and match with your bathroom hardware.
the innovations our toilet seats are known for. (Please note: Many of these great features are found on both enameled wood and plastic seats)
Want to learn more? Our Reading Room has lots of helpful articles! Here are some of the most popular:
What Material Should You Choose for Your Toilet Seat?
Decisions, Decisions: Choosing the Perfect Toilet Seat
What Size Toilet Seat Do You Need?
Who Knew That Cleaning Your Toilet Seat Was So Easy!
Benefits of Enameled Wood Toilet Seats and Plastic Toilet Seats