Seasonal Decorating: Spring
If you live in a climate with definite seasons, you know that winter brings cold snaps, shorter days and colors that reflect the feel of the season, like red, navy, and grey.
After the cold, the whisper of days growing warmer brings moments to savor: A gentle breeze stirs, the first birds chirp, and green buds poke through the earth.
If you're like us, you feel the urge to open the windows, strip your bed of its flannel sheets and replace with lighter linen or crisp cotton, and welcome the season with some fresh decorating.
Make sure your decorating includes the bathroom! Tucked away in the corner of the house or off the master bedroom, the bathroom can be forgotten, a functional space that you only think of when you need it. But your bathroom deserves a refresh along with the rest of the house!
Spring is also perennially tied to cleaning, so before decorating, give the bathroom a deep clean. Chasing the dirt out of the corners and getting your windows sparkly will give you a new palette to build on.
Start With Color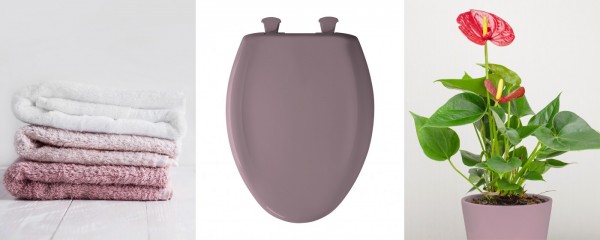 Think Dresden Blue, Sea Green, Wild Rose and Yellow. These beautiful colored seats install easily and the Stay•Tite™ Seat Fastening System™ keeps them firmly attached to the bowl. And they'll never loosen with use! Their slow-close feature eliminates slamming, and when it's time for cleaning, Easy•Clean® hinges let you remove the seat for thorough cleaning.
Swap out your curtains – both window and shower! Fresh patterns lift spirits and create a buoyant feeling, perfect for spring. Consider florals, thin stripes, or toile to lighten the mood.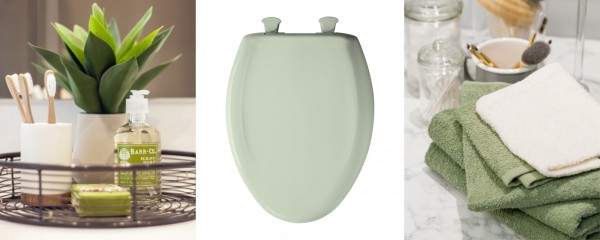 Beautify the Vanity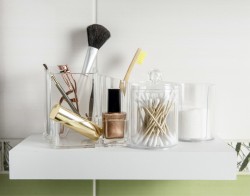 Swap out your storage containers. Instead of heavier ceramic, consider glass or rattan. Glass imparts a modern feel, plus allows you to see the contents. Raffia introduces a casual vibe, perfect for a seaside décor.
Change the fragrance. Add scented soaps or lotions to bring in a "spring breeze" feel. For a customized fragrance, try a DIY reed diffuser.
Add new hand towels. Did you buy a beautiful Sea Green toilet seat? Think about matching towels, or balance that softness with a set of crisp white towels.
One or two small potted plants add charm. Think pansies, which can be planted outdoors once the weather warms up, or anthurium for a splash of color.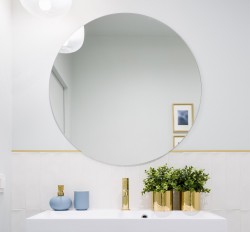 Want a Change of Scenery?
Paint the walls in your favorite spring color. Our Twilight Blue toilet seat plays well against deeper blue walls. If you chose a Yellow seat, consider grey for a spring-like balance.
Now that you've painted, it's time for new wall art. Hang framed photos of your favorite vacation scenes, or try a DIY project that lets your personality shine.
Need a new reflection? A different mirror gives a different frame of reference and updates the bathroom's dynamic. Find yours at a high-end retailer or have fun scouring thrift-store treasures.
Make Sure You Order the Right Color
There's nothing more frustrating than ordering a product, anticipating its arrival, and unwrapping it to find it's not what you wanted. Our color chips let you compare colors ahead of time so your order the toilet seat that best matches your bowl. Call our Customer Service team at 888.722.6488 to get started.
Please note: Colors on a website can vary considerably from the actual color of the toilet seat due to monitor and printer settings. The colors on our website are for approximate visual use and should not be used to match colors exactly to your toilet bowl.
Need More Inspo?
You've come to the right place! We have a whole library of design inspiration ideas, plus articles on measuring for a toilet seat and cleaning your toilet seat. We thought of it all, so learn more here:
Five Ways to Easily Change the Feel of Your Bathroom
Five Trends to Build Into Your Bathroom
What Size Toilet Seat Do You Need?
How a Toilet Seat Changes the Dynamic of Your Bathroom
Get More Seasonal Decorating Ideas Here: