Seasonal Decorating: Summer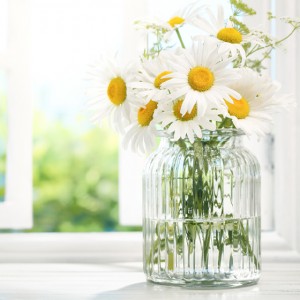 The days are warmer and the vibe is relaxed – think shorts and tank tops, bright sunlight and the aroma of freshly cut grass. It's life as it should be: uncomplicated, enjoyable, relaxed.
There's nothing fussy about summer, is there? Bringing this feeling indoors is an ideal way to let the season linger throughout all the rooms of your house.
As you might suspect, we're partial to the bathroom. It's where the kids wash the grime from little hands that played in the yard all day; the spot you seek after hours of gardening. It should be a place that reflects your family's love of the season.
The good news is, it doesn't take much to create a bathroom that welcomes and relaxes. Take your inspiration from the colors outside and the season's sunny warmth, and bring that indoors. The first step?
Start With Color
Think Sea Green, Dresden Blue and Yellow, the breezy colors of our toilet seats. They install easily and the Stay•Tite™ Seat Fastening System™ keeps them firmly attached to the bowl. They'll never loosen! And no more slamming, either – our slow-close feature lets the seat close slowly and quietly to the bowl. When it's time for cleaning, Easy•Clean® hinges let you remove the seat for thorough cleaning.
Start with a base color. For example, the sand provides the starting point, surrounded by the warmth of the sun and the lights of the sky. In the same way, using a base color in your bathroom – a neutral beige or warm sand – sets the stage for other colors to sing.
Start with fresh white walls and towels. Add an eyelet shower curtain in white and matching curtains. Our Ming Green toilet seat, a soft blend of green and turquoise, balances the crisp feel.
Go Glass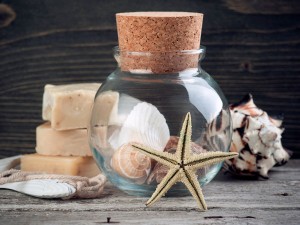 Nothing is more reminiscent of the beach than smooth slivers of glass found along the shoreline. Whether you fill a jar with their sparkling beauty or simply use glass jars to hold swabs and tufts of cotton balls, the result is pure beach.
Create a play of light with a collection of glass balls arranged in a basket.
If your toiletries have found a home on the vanity, tuck them in a cupboard and set glass bottles in their place. Filled with flowers or greenery, they add a natural touch that fits the season.
The Scents of Summer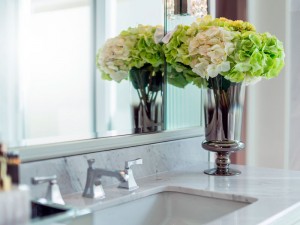 Our Dresden Blue toilet seat evokes the clear blue of chicory flowers. Build that theme with light blue towels, bunches of chicory flowers in raffia-covered vases, and a matching bath rug.
Create a DIY room air freshener in a scent that continues your color choices. For example, if you chose a Yellow toilet seat, punch it up with a summery citrus room spray.
Candles are an ideal way to add color and fragrance without breaking the budget. Group them on a shelf or in the corner of a vanity.
Make Sure You Order the Right Color
There's nothing more frustrating than ordering a product, anticipating its arrival, and unwrapping it to find it's not what you wanted. Our color chips let you compare colors ahead of time so your order the toilet seat that best matches your bowl. Call our Customer Service team at 888.722.6488 to get started.
Please note: Colors on a website can vary considerably from the actual color of the toilet seat due to monitor and printer settings. The colors on our website are for approximate visual use and should not be used to match colors exactly to your toilet bowl.
Need More Inspo?
We have plenty of ideas to let you incorporate our toilet seats into the seasons or build a color theme! Learn more here:
Five Ways to Easily Change the Feel of Your Bathroom
Five Trends to Build Into Your Bathroom
What Size Toilet Seat Do You Need?
How a Toilet Seat Changes the Dynamic of Your Bathroom
Get More Seasonal Decorating Ideas Here: