You Woke Last Night to the Sound of a Crash
Scenario 1: You're sleeping soundly, an hour or so from your normal waking time when your partner gets up to use the bathroom. Suddenly, a SLAM! pops your eyelids open as the toilet seat crashes to the bowl. Your heart thuds. Instantly, you know it: Sleep is over for the night.
Scenario 2: Your five-year-old is in the bathroom when you hear a SLAM! and a wail that seizes your heart. You run, breathless, to find that her little fingers got caught in a slamming toilet seat.
It Doesn't Have to Be This Way
You can enjoy restful sleep without worrying that your toilet seat will go rogue in the middle of the night. Your children should be able to use the toilet without fearing pinched fingers.
How? Whisper•Close®.
With just a tap, this innovative slow-close feature lets your toilet seat close quietly to the bowl. And Whisper•Close works whether you just close the cover, the seat, or both.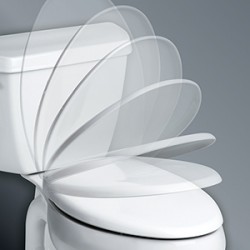 Wondering if Whisper•Close is one of those hide-and-seek features only available on a limited number of toilet seats? Hardly!
We believe in innovation and know that sharing is caring, the best way to improve the quality of life for our customers. That's why you'll find Whisper•Close on a wide variety of our toilet seats: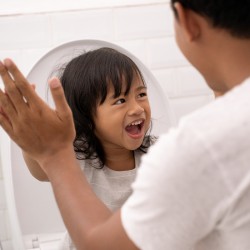 Here's Scenario 3: Long nights of dream-filled sleep, uninterrupted by sudden slams. Children who enjoy the "big kid" feel of using the toilet without worrying about pinched fingers.
Will Whisper•Close encourage your family to finally close the cover? Even we can't guarantee that. But what we can promise is that if they decide to at least try, just a tap will make it happen.
Our library of articles gives you inspirational decor tips and helpful ideas on choosing the best toilet seat. And do we dare claim the contents will keep you on the edge of your seat? ;) Read on to find out:
Seeing Red? Four Ways to Create Drama in the Bathroom
Nine Ways to Incorporate Color Into Your Bathroom
Decisions, Decisions: Choosing the Perfect Toilet Seat
How a Toilet Seat Changes the Dynamic of Your Bathroom
What Material Should You Choose for Your Toilet Seat?
The Benefits of Enameled Wood Toilet Seats and Plastic Toilet Seats
5 Trends to Build Into Your Bathroom